Gas scooters are fast and smooth. If you are getting bored with your average car ride, a gas scooter can be an alternative. Gas scooters cause fewer emissions and are also very cost-effective. Gas scooters are much faster than traditional or electric scooters. And much reliable too. In this article you can find the 5 best gas scooters available. Also a buying guide which will help you pick up the perfect scooter for yourself.
5 Best Gas Scooters Review
Gas scooters are usually money saving. And it is entertaining to ride as well. You have a better understanding of the surroundings on a scooter rather than a car. Gas scooters are usually easy to store and take a lot less space than cars. Here are the reviews of the best 5 scooters we found from our extensive research.
1. Dirt Dog 49cc Gas Powered Scooter
The ScooterX dirt dog was available on the market from 2002. And it's been a fan favorite since then. At the birth time, the dirt dogs were shipping in a 43cc engine. But after 2006, all the dirt dogs came with 49cc and chrome engines.
Features
Top speed 22-25 mph
Foldable handlebars
Upgradable
Automatic clutch
Brake levers
Kickstand
Rear footpeg
Specifications
Comes in black color
Frame material: Aluminum
Rear disc brake
Engine: 49cc
Tire dimension: 10 x 3.5â€
Unit weight: 49 lbs
Unit dimension: Length 43†x Width 14†x Height 20â€
Pros
Suitable for teenagers
Wider handlebar than standard
Dual sport tires for both on-roading and off-roading
Motorbike style twist throttle
Aluminum deck
Double rideable
Perfect for stunt riding
Cons
Hard to assemble
The engine takes time to get warm
The metal used to build it is not high quality
Final Verdict
With more comprehensive handlebars, the scooterX dirt dogs are a great choice. If you are a rough rider this bike will be a great fit. With its compatibility with dual roading, it would be an excellent ride in the budget.
2. Coleman Powersports Gas Powered Mini Bike
The CT100U is the flagship model of Coleman Powersports. They call this mini bike an American classic. It is a perfect scooter for running through rough terrains with family and friends.
Features
Designed in the USA
Max speed: 20mph
Low-pressure tires
Pull start bike
Rugged clutch
Suitable for 13 and above
The toolkit included in the package
Specifications
Comes in two colors: Black and Red
Engine specifications: 4 strokes,one-cylinder engine, 98cc/ 3 horsepower
Tank capacity: 3.6 litres
Weight- 82lbs
Rear drum brake
Dimension: Length 36†x Width 14†x Height 26â€
Pros
6″ clear from the ground
A thrilling experience for young kids
Easy assembly
No gear shift, one gear only
Customizable
Racks in front and back for storage
Cons
The old school braking system
Heavy
Ameture paint job on the scooter
Final Verdict
The CT100U is perfect for you if you are an outgoing person and love to take on trails. This reliable vehicle will take you and your luggage to places. This scooter is an excellent start if you want your teenage kid to have a motor ride of his/her own.
3. TOXOZERS Gas Scooter
The uberscoot produces the state-of-the-art scooter line. The Uberscoot 2x 50cc is not different either. It used new manufacturing technology. The Toxozers Uberscoot 2x 50cc would be an excellent choice as your next gas scooter.
Features
MX Foldable handlebar
Camlink suspension on the front
2 stage thumb shift gearing system
Quick-release seat
Specifications
Black Color
Engine Specifications: 49cc,2 horsepower,2 stroke
Milage: 20miles/tank
Unit dimension: Folded- Length 49â€, Width 20â€, Height 20†/ Open- Length 49†x Width 20†x Height 44â€
Forged aluminum wheels
Pros
Excellent resistance on jump
Two riding options with two gears, power in gear one and speed in second gear
Max weight capacity: 265 lbs
Billet aluminum deck
State-of-the-art design
EPA approved engine
Cons
Bad carbs
Not so great seats
Final Verdict
With a great engine and outstanding mileage, the uberscoot 2x would be a perfect fit for everyone. Both daredevil or a regular rider. With the option of a seat, you can have a long smooth ride without breaking a sweat.
4. SAY YEAH Motorized Mini Scooter
The "say yeah" gas bike is the ultimate scooter. The scooter is famous for its ability to take sharp corners and fantastic speed. This gas scooter can handle both its on-road and off-road capability.
Features
Foldable wide handlebars
Max speed- 18-20mph
EPA approved engine
Pull rope mechanism
Turn-off switch on the handlebar
Suitable age: 13 and higher
Air-cooled 2 stroke motor
Comes with a ser manual
Specifications
Black color
Wheels: Material- Pneumatic, Diameter- 9″
Unit weight: 59lbs
Gas tank capacity: 1.25 liters
Engine: 49cc
Brake system: Front and rear disc brakes
Unit dimension: Length 39†x Width 16.5 x Length 37â€
Pros
Easy to operate
Speed control on the handlebar
Suitable scooter for beginners
Can take up to 185 lbs
Rigid steel built
Overcomes bumps with ease
Toolkit included
Cons
Seats are a bit slippery
A bit on the smaller side
Not upgradable
Handlebar joint not much strong
Final Verdict
The "say yeah" gas bike is a superb choice for both beginners and experienced riders. With its suitable materials and strong frame, this gasoline scooter won't disappoint you. This is one of the best gas scooters for kids available in the market.
5. A-Blaze Signature Series 2 Gas Scooter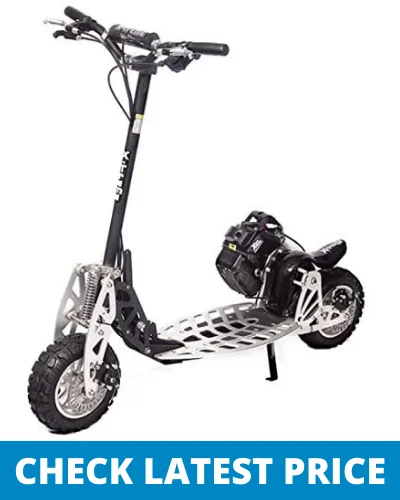 The super-speedy scooter is here. The A-Blaze Signature Series-2 runs fast and well. You can go anywhere with it, and you can go there pretty quick. This is one of the fastest gas scooters for adults available in the market.
Features
Top speed: 33-35mph
Finger throttle
Chain pull system
EPA certified engine
Patented front mono-shock suspension
Two-speed gear shifter
Specifications
Black color
Aluminum frame
Braking system: Disc brakes in front and back
Engine: 50cc 2 stroke motor
Milage: 20miles/tank
Tires: 11″ knobby
Unit weight: 60 pounds
Unit dimension: Length 47″ x Width 19″ x Height 17″
Pros
Quick adjustable
Aluminum billet deck
Provides smooth landing while jumping
Choice of adding a seat
Racing handlebars
Fold and lock mechanism
Can fit in a car trunk
Cons
The chain is a bit loose
Hard to change gears
Acceleration decreases after using sometimes
Final Verdict
This racing-inspired stylish gas scooter can be a terrific choice for yourself. It has the speed and the power to back it up. Consists a robust and fuel-efficient engine and a healthy body. This scooter could become your new best friend easy.
Things To Consider Before Buying Gas Scooter
Gas scooters are gaining a fan base of their day by day. These scooters are much faster and heavy-duty than their electric or manual counterparts. They are lighter than a motorcycle and take a lot less room to store. Gas scooters take less fuel to operate too.
Before purchasing you should consider some things first. As like using the scooter, who and where will use it. There are a lot of scooters in the market. It is easy to get confused by all these options. It would be best if you considered some aspects of scooters before buying one for yourself.
Engine Size
Gas scooters come in a lot of engine sizes. Before buying the scooter, consider what type of speed you are comfortable with. Also what road will be the scooter will run on. Higher cc engine scooters will have more speed and more capacity to carry weight. Usually, there are three engine size categories for gas scooters.
1. Under 50cc
These scooters can run a most of 35mph and usually have a 1-gallon tank. Generally gas scooters have a kick or pull start system. Also, scooters under 50cc scooters are lighter and smaller in size.
2. 50cc-149cc
These particular scooters usually have storage space under their seats. They design it especially for long roads. That is why they have a larger tank, up to 1.75 gallons. And can go as fast as 60mph.
3. 150cc-250cc
Scooters with 150cc-250cc engine capacity can reach about 70mph. It also has a large tank with a 2.22-gallon capacity. These scooters can carry up to 400lbs on them. And the scooters built for all-terrain.
Height
Height is one of the significant considerations before choosing your scooter. If you are looking for a gasoline scooter for your kid or a short person, don't buy the large and heavy ones. They will have a hard time riding the scooter. Again don't buy a small scooter if you are tall. Discomfort riding for long can damage your body for permanent. The best option is to buy a scooter with an adjustable height system.
Safety
As the gas scooters could be speedy, safety should be a significant concern. Choose a scooter with high quality and dependable safety measures. Pick a scooter with brakes on both tires. Disc brakes are preferable, but drum breaks are good also. Go for a scooter with excellent quality materials and adjustable grippy handlebars. Always remember safety is first.
Weight
Choose a scooter that you can carry at ease. Usually, all gas scooters are on the heavier side. Scooters under 50cc are lighter than the other types of scooters. As powerful the engine gets, the scooter gets heavier.
Manual/Automatic Transmission
Generally, scooters come with automatic gears. Auto gears are best suitable for beginner riders who are getting into the gas scooter game. But if you are an experienced rider, then you could go for a manual gear scooter. It would provide a new type of experience.
Storage Facility
If you are getting a scooter for daily use, you should consider getting one with storage spaces. Usually, scooters over 50cc have storage spaces under or behind the seat. Some scooters are even capable of carrying two people.
Conclusion
If you like the thrill of speed but don't want to spend much gas, scooters are for you. Also, you can run around on the block without taking your car every time. The perfect scooter for you can be your best friend in no time. I hope this article can help you to find your next sweet ride.