Kick or Electric, the bar is one of the key components that make a scooter well. The bar is one of the key factors that determine the handling, comfort, and strength of your ride. Even though the stock bars that come with our scooters can do the job just fine, investing in pro scooter handlebars can greatly increase the performance, feel, and look of our rides.Â
In this article, we will be taking a look at the 10 best scooter handlebars that you can get to level up your ride complete with FAQs and a buying guide. So let's get right to it!
Best Scooter Bars Review
Out in the market, there are plenty of options for scooter bars available so finding the right type of bar can be quite challenging. Aftermarket bars vary depending on the material, size and weight.Â
Based on thorough testing by experts and customer reviews, we have chosen the 10 best scooter bars available. Read on! Because there is something for everyone.
1. Envy Blunt Stripper Bars For Scooters
Blunt and Envy's Stripper bars are one of the world's top-selling aftermarket bars for scooters. This reasonably priced bar is made of Chromoly steel and features a cutting-edge 4 piece design.
This design gives the product great strength and its own signature look. The bars have a 3 degrees back sweep for greater handling and control.
These standard-sized bars are available in six eye-catching gloss finishes.
Features
Tough 4-piece Construction
3 degrees back-sweep for enhanced control
High Y section offers more knee freedom while stunt riding
Made of high strength chromoly steel
Comes in six eye-catching gloss finishes
Pros
Tough chromoly steel construction
Compatible with all standard compression systems (ICS, IHC etc.)
Back sweep offers superior control
Affordable Price
Great Finishes
Final Verdict
Blunt Envy Strippers are great scooter bars for their price. The chromoly steel construction is really tough. The back sweep allows for a comfortable ride. We definitely recommend it if you are looking for a good old faithful steel scooter bar.
2. Liberty Pro Scooters – Stealth Titanium T-Bars
Made from grade-9 titanium, Liberty's Stealth T Bars lightweight yet extremely strong. These oversized pro bars are perfect for skatepark riding. The titanium welded 2 piece design is simple and minimal and would look great on any scooter. The T-shaped supersized form maximizes comfort and handling. It comes in two great finishes.
It is a bit on the pricey side, however, due to its full titanium construction. But the strength and weight ratio is unmatched.
Features
Grade 9 titanium build
Awesome weight to strength ratio
Sleek and simple design
Oversized bars compatible with most compression systems
Comes in two great finishes
Pros
Super-tough
Lightweight
Simple design
Customizable
Really cool finishes
Cons
A bit too pricey for amateur or intermediate riders
Final Verdict
The Liberty Stealth T bars are a really high end upgrade for pro scooters. You just can't beat the resilience and low weight of titanium. If it is well within your budget, then we definitely recommend checking it out!
3. DropIn Scooters T-Bar
As a custom pro scooter manufacturer, DropIn has a range of really cool aftermarket parts. Their T bars are made of high-strength Chromoly steel. These standard-sized bars come in 22, 24, and 26-inch variants. 0 degrees sweep angle means that it gives you an instant steering response and smooth bar spins. The 4130 Chromoly steel construction offers high strength and durability yet these bars are amazingly lightweight. These are compatible with SCS compression systems.
These come in in black and a really funky and more popular rainbow metallic finishes.
Features
Tough and lightweight chromoly steel construction
Multiple sizes available
No sweep offers easy handling and bar spins
Sleek and simple design
Pros
Tough and durable
Lightweight
Cool design and finish options
Multiple sizes available
Reasonably priced
Cons
Specifically designed for SCS compression systems. Check for compatibility prior to purchase
Final Verdict
DropIn's T bars are reasonably priced yet a high end upgrade for pro scooters. It's tough build with great craftsmanship ensures that you'll be using these bars for a long time. The metallic rainbow finish in particular looks really rad. We definitely recommend it.
You May Also Like : 10 Best Scooter Decks Review & Buying Guide
4. Root Industries RP Pro Titanium
The RP Pro Titanium is the lightest pro scooter bar manufactured by the leading scooter and parts manufacturer, Root Industries. As the name suggests, the bars offer a full titanium construction which means they are tough yet weighing just a fraction of that of standard Chromoly steel bars.
These sleek oversized bars are perfect for freestyle riding and can handle strenuous skatepark sessions with ease. The bars offer superior craftsmanship and would look great on any scooter. They are compatible with all oversized compression systems.
Features
Full high grade titanium construction
Durable and lightweight
Size and Form is great for executing difficult tricks
Stylish and sleek design
Compatible with most oversized compression systems
Pros
Durable
Lightweight
Stylish design
Great for freestyle riding
Cons
A bit on the pricey side
May require a bit of modification with certain compression systems
Final Verdict
The RP Pro titanium is a really high end upgrade for any scooter. It is insanely lightweight and executing tricks is really easy with it. It's probably the only upgrade you'll ever need for scooter bars. Although these bars are a bit expensive, they are certainly worth the money.
5. ROOT INDUSTRIES Stunt Scooter Handlebars
The oversized Invictus bars by Root Industries are made of HMA or "High Modulus Alloyâ€, a variant of 6061 aluminium which is identical in weight yet 50 percent stronger. This makes the Invictus almost unbreakable.
Designed for freestyle stunt riding, the low weight and balanced profile allows buttery smooth barspins and superior whip control. These sleek looking bars will fit most scooters with oversized compatibility.
Comes with 90 days of the manufacturer's warranty.
Features
Made of lightweight and strong "HMA†alloy.
Sleek design
Attractive finishes match nicely with most scooter paint jobs
Easy to assemble
Pros
Tough
Lightweight
Balanced and comfortable profile
Affordable alternative to titanium bars
Cons
Check to see if the bar is compatible with your scooter prior to purchase
Final Verdict
Root Industry Invictus handlebars are really great cheaper alternatives to titanium bars. These are lightweight yet tough and great for freestyle stunt riding or cruising. This paired with the excellent Root Industries craftsmanship makes them definitely worth checking out.
6. Mayhem Scooter Bar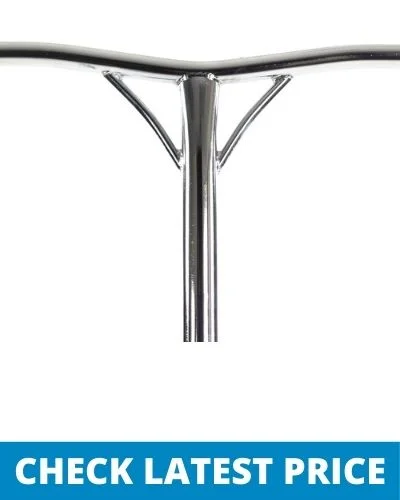 Looking for a top-shelf steel bar for your ride? The Mayhem Company's Chromoly steel bars are handcrafted and offer one of the highest quality in the world of steel bars. This 4-piece bar is made of tough 4130 Chromoly steel. Each of the pieces is put together professionally using high-strength TIG welding. Powder coat finish makes them extremely durable.Â
The overall strength and design makes it a really great and affordable upgrade for your scooter.
Features
Tough 4130 chromoly steel construction
TIG welded professionally
Handcrafted
Tough and sleek 4 piece design
Powder Coated for durability
Pros
Tough construction
4 piece design is great for freestyle riding
Durable
Comes in eye catching finishes
Affordable
Cons
A bit heavy
May require adapters for compression systems other than SCS
Final Verdict
Mayhem Scooter Bars offer exceptional build quality. Once you slap one onto your scooter, you won't need to worry about getting them replaced any time soon. The high quality material, welding and design will surely deliver outstanding performance on street or skatepark. All of that at a fairly affordable price. So be sure to check it out!
You May Also Like : 10 Best Scooter Grips Review & Buying Guide
7. Envy Soul Bars Oversized
Another one from Envy! Envy has been manufacturing some really amazing spare parts for scooters over the years. Their Soul bars are no different. Being one of the most popular bars by Envy, the Soul Bar features a 4130 Chromoly steel construction. These T bars have a gusseted joint to provide additional strength.Â
As you can tell these bars are made to take a beating. Previously manufactured in standard sizes, only oversized variants are currently manufactured. They come in four cool finishes.
Features
Tough Chromoly Steel construction
Gusseted Joint for additional strength
Simple and slick design
Available in 4 great finishes
Pros
High grade material
Smooth T bar handling
Durable
Eye-catching finishes
Cons
Only oversized variant available
A bit heavy due to steel construction
Final Verdict
In general, steel bars are heavier than aluminum-made bars. If you are looking for a stable riding experience, this handlebar is an excellent choice for a relaxed ride.
8. DropIn Scooters DIS Chromoly Steel Custom Bars
Looking for a really cool-looking scooter bar for your ride? Then be sure to check out DropIn's Custom Chromoly Steel Bars! Aside from it's great looks, you get the strength, reliability and versatility of 4130 Chromoly steel. And they also include back soft grips as well! Who else does that?
The 0-degree sweep gives the comfort and control of a T bar. The raw steel finish looks and feels amazing. The matte black variants are no different. These oversized bars are easy to install and have a wide compatibility range.
Features
Made from high quality 4130 chromoly steel
Tough 2 piece geometry
Sleek
Comes in two great finishes
Soft grips included and installed
Pros
Tough
Durable
Looks and feels amazing
Zero degree sweep angle is nice and comfortable
Both finishes look great
The included grips are really comfortable
Affordable
Cons
May feel a bit heavy to certain riders
Final Verdict
DropIns Custom Chromoly Steel Bars can be an eye-catching upgrade to your scooter. Aside from it's looks, the tough construction and form can take any beating with ease. Although they might feel a bit too heavy to aluminium or titanium lovers, they are really comfortable to use.
9. Razor Ultra Pro Series Cro-Mo Handlebar
Looking for a tough and sleek bar for your scooter at an affordable price? Then check out Razor's Ultra Pro Series Cro-Mo bars.
These standard-sized T bars are made from tough yet lightweight Chromoly steel. The two-piece construction ensures greater joint strength. Built to take on rough skatepark conditions, these rugged bars have a simple design. The finishes look really cool and sleek.
A perfect upgrade for beginners!
Features
Tough yet lightweight 4130 chromoly steel construction
Simple and sleek design
Easy to assemble
Compatible with most standard compression systems.
Great color options
Pros
Tough
Lightweight
Sleek design
Great colour options
Affordable
Cons
May not be suited for extensive heavy riding
Final Verdict
These handlebars are the perfect quality upgrades for beginners or casual riders. They look simple yet eye-catching. They are lightweight and really comfortable. A tough rugged bar made to take a beating. The super affordable bars are highly recommended for beginner stunt riders.
You May Also Like : 10 Best Scooter Wheels Reviews & Buying Guide
10. SCT USA Titanium T Bars
A top-shelf upgrade, the SCT USA Titanium T Bars are made of the highest grade titanium.
This all-titanium build makes the bar super strong but light as a feather. This bar has a simple T-shaped form that gives maximum riding comfort and control. They come in both standard and oversized variants and will fit most compression systems. A reliable unit builds for pro riders.
Features
High grade titanium construction
Simple T-form
Durable
Ultra lightweight
Cool raw finish
Pros
Lightweight
Strong
Easy stunt execution
Comfortable
Comes in both standard and oversized variants
Final Verdict
The SCT USA Titanium T bars are really high quality bars. The full Titanium Construction makes it feather light. This paired with the T-Form makes it a formidable presence in the skatepark. Although these may be a bit too expensive due to the titanium build, it really is worth the price. We definitely recommend it to pro scooterists.
Things To Consider Before Buying Scooter Bar
The bar of your scooter is the only moving part used to steer the scooter. It is a key component of your scooter. So upgrading the bars means that there are gonna be major changes in the performance handling and feel of your scooter. Therefore it is necessary to choose a bar that suits you.
While the choice of bar mostly depends on your riding style, there are other factors that you need to consider like compatibility and price. Below are some of the key things to consider while choosing a new bar for your ride.
1. Form
i) Regular Bars
Several types of handlebars are available in the market with different features and constructions. Standard casual scooter handlebars usually have many pieces and are adjustable. If you just intend to ride on the streets as a means of short-distance commute, then look for a bar that allows easy adjustments and quick-release features. But these may not be the strongest of options.
ii) T Bars
One or Two-piece T bars are much stronger and need better compression systems for installation. But they may not be enough for heavy stunt riding as there is a probability of failure especially with those made of aluminium.
iii) Y bars
Y bars happen to be a better candidate for stunt riding than their X counterparts due to better weight distribution. And these too need strong compression systems.
iv) BMX Style Bars
BMX style bars are even stronger and are the bars of choice for many freestyle scooter riders. The bulkier form of such handlebars is designed to face strenuous skatepark riding.Â
v) Batwing Bars
Batwing bars top the list due to their hybrid form factors. A combination of the best of both Y bars and BMX style bars. These tough bars are preferred by many pro riders.
2. Material
i) Steel Bars
The most commonly used material for making scooter bars is a Molybdenum rich steel called "Chromoly Steel†This material is super tough and can handle almost any riding condition. However, due to its heavier weight, many riders tend to go for aluminium or titanium bars.
You May Also Like : 11 Best Scooter Locks In 2020 – Reviews & Buying Guide
ii) Aluminium Bars
Aluminum bars are much lighter than steel. Due to this, it is much preferred by many riders. But as aluminum happens to be quite a bit weaker than steel, such bars are not so popular among heavy stunt riders
iii) Alloy Bars
Alloy bars are made of steel-based alloys which gives them their strength but happen to be considerably lighter than steel bars. Due to this versatility, alloy bars are popular among stunt riders. They are also cheaper than titanium and certain aluminum bars.
iv) Titanium Bars
Titanium is a metal used in aircraft manufacturing due to its strength and low weight. Due to this titanium bars are considered top of the shelf components. Such bars are extremely lightweight and almost as strong as steel. These are preferred by pro riders for these characteristics. But titanium happens to be quite expensive. Due to this titanium bars come with quite a price tag.
3. Size
Not all scooter bars may be compatible with your scooter as there happens to be different sizes of scooter bars and different "Compression Systems†or clamps used in scooters. There are two different sizes of scooter bars; Standard and Oversized. Standard bars have an outside diameter of 32mm. On the other hand, oversized bars are a bit bulkier with an outer diameter of 35 mm.
Oversized bars are preferred by pro riders due to their greater strength, handling and comfortable feel. But make sure your current compression system supports oversized bars before getting one. You can use a standard bar on an oversized system using conversion kits but not the other way around.
You May Also Like : 10 Best Scooter Helmets Of 2020 – Reviews & Buying Guide
4. Compression System
The most commonly used clamp or compression systems in scooters are HIC, SCS, and ICS. Among them, the HIC uses slitted handlebars. SCS uses plain non-slitted handlebars and ICS uses internal threading. So it is wise to get a scooter bar that supports your current compression system.
You'll be glad to know that certain bike repair shops offer modifications for the scooter bars to enable proper fitting. But it is better to get a bar that fits right away.
5. Height and Other Dimensions
Be sure to check the desired bar height that is the most comfortable for you. Because although it is possible to cut down a bar to your desired size, you cannot go the other way round. So keep that in mind.
6. Finish & Paint Job
Although the looks of a ride comes down to personal preferences, it is wise to put some thought into it and get a bar that suits your ride and style.
Frequently Asked Questions
1. What are the lightest scooter bars?
Aluminium made bars are the lightest as far as materials are concerned. But most of the aluminum is alloyed with other materials. Generally, if the alloy is made with heavier material(s) than aluminium, they get heavier. So, look for the description of whether the manufacturer made the alloy with heavier materials or not.
You May Also Like : 10 Best Toddler Helmets for Scooter With Buyer's Guide
2. What is the best height for scooter bars?
The best height for scooter bars depends on the size of the riders themselves. The recommended height is measured against the rider's waist-height. You can comfortably ride with a handlebar equivalent to your waist's height. But if you want to do some tricks, you may go with shorter bars. But you cannot move flexibly if the bar height is equal with your chest.
3. What are oversized scooter bars?
Standard scooter bars have an outer diameter of 32mm. But many riders prefer a slightly bulkier "Oversized†bar for greater strength, control and feel. Oversized bars usually have an outer diameter of 35 mm.
Conclusion
Changing out the bar of a scooter is a major upgrade. So choosing the right bar that suits you and your ride is absolutely crucial. It is indeed a confusing task and hopefully, this article will help you choose the best pro scooter bar for your scooter from a great many options available out there. Good luck and happy scooting!